SuperVegan.com is celebrating its first birthday with a huge free party--and you're invited! (As long as you're over 21.)

The best local restaurants have donated lots of yummy appetizers, and we'll also have birthday cake and great raffle prizes. Wash down your drinks with free food from:

Red Bamboo
Babycakes
4 Course Vegan
Counter
Sacred Chow
and more!

The party is this Thursday, March 15, from 7:30-11pm at No Malice Palace, located at 197 East 3rd Street (between Avenues A & B).

SuperVegan.com has the best vegan guide to New York City Restaurants and a comprehensive Vegan Link Directory. Our Vegan Blog is updated regularly with the latest news and commentary. Says VegNews: "One thing's for sure about this site--its name does not deceive."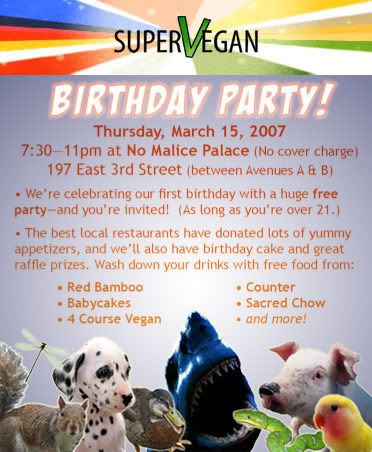 (You can also friend
superveganblog to keep up with SuperVegan on LiveJournal.)